USC Student Affairs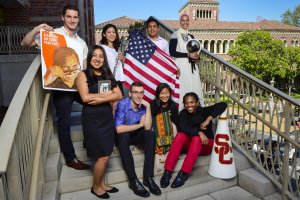 Among the graduates honored at the 2015 Student Recognition Ceremony were (Clockwise from Top Left): Jason Finkelstein, Stefani Feldman, Oscar De Los Santos, Engie Salama, James White, Linda Wang, Luke Bouma, and Roxana Ontiveros (USC Photo/Gus Ruelas)
The most prolific among the USC's Class of 2015 were honored at the Student Recognition Ceremony in Bovard Auditorium on Thursday, May 14.
Those distinguished graduates are listed below.
Order of the Laurel and the Palm is the highest honor for outstanding scholarship and leadership bestowed by the Division of Student Affairs and one unknown to its recipients prior to the event.
Ama Konadu Amoafo-Yeboah, a Psychology major and Children & Families in Urban America minor, served as Executive Director of USC Program Board, Executive Director for the Black Student Assembly and Co-Founder of the mentorship program, Product of My Dreams.
Catherine Brackett, a Political Science major and Psychology and Law minor, led the largest recruitment class in USC history and oversaw the first system-wide sexual violence/assault and diversity workshops as Vice President of Recruitment for the USC Panhellenic Council.
Tiffany Chang, an Accounting and Business Administration major, held leadership roles in Beta Alpha Psi, Taiwanese American Organization and the Intercollegiate Taiwanese American Student Association, and she has a popular YouTube channel on which she performs covers of pop songs.
Oscar De Los Santos, a Political Science major, Truman Scholar and USC Provost's Undergraduate Research Fellow, served as White House intern for Deputy Assistant to the President of the United States for Economic Policy.
Nnenna Ezeh, a Health and Humanity major and Natural Science Health Care Studies minor, was one of 20 students selected to participate in the Problems Without Programs at Oxford University, and served as Assistant Director of USC EdMonth and Co-Chair of the African American Cultural Celebration.
Stephanie Fong, a Biomedical Engineering major and Digital Studies minor, received the USC Academic Achievement Award, served as Treasurer and Webmaster for the USC Triathlon Competition Team, and served as Ambassador Program Chair for the Society of Women Engineers.
James Freymuth, a Philosophy, Politics & Law major with a masters in Public Administration, was a Presidential Scholarship Recipient, member of Order of the Torch and Vice President of Recruitment and Director of New Member Education for the Interfraternity Council.
Nicholas Kosturos, an International Relations major and Applied Computer Security minor, was Director of Leadership and Professional/Academic...
You might also like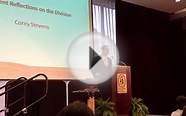 Corey Stevens Student Affairs speech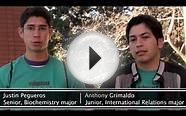 USC Students Volunteer for Friends and Neighbors Service Day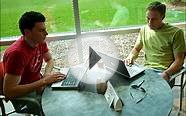 Student Affairs