Web Reg

I like to think that I'm a positive person. I am, for the most part, always looking on the brighter side of things. But like everyone else, I complain. I think I've done a good job at remaining optimistic in my posts, even when dealing with dire (the hurricane) or personal (the fears of growing up) topics. And regarding Rutgers, I've shown nothing but praise. I assure you that I've meant every word—in no way have I shown bias in favor of my school.
That, of course, means it's high time for some criticism. With over 43, 000 undergrads, Rutgers is crowded; classes are large and [sometimes] impersonal, traveling is difficult, and (from what I hear) parking is absolutely awful. And with that size, Rutgers has, is, and will always encounter difficulties maintaining student satisfaction. As much as I would like for us all to collectively rant about these things, I don't want to overburden this post with negativity. Instead, I'll only focus on one [major] frustration that Rutgers students encounter: WebReg.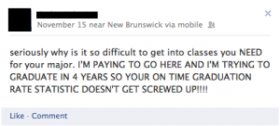 Firstly, the name. Written out, it makes complete sense. WebReg. Or in full, web registration. Easy? Just wait.
When I was a young freshman, untainted by school, I went about my days pronouncing it just as it (I believed, and still firmly do) is supposed to be: Web reg(istration). "Reg" is in Reginald, registrar, or REGISTRATION. But to my surprise, the masses foolishly say "reg" as in "regular." The same fiery anger rises in my stomach when people say "cue"-pon.

Pronunciation isn't a big deal, though. I still have to mentally stop myself from saying "pitcher" instead of "picture, " so I understand the habit. But, doesn't reg[istration] make more sense? Am I missing something?
The heart of the problem, though, doesn't lie in the name. WebReg—a system where students register for classes—is, ideally, a fantastic idea. Students can sign up for the next semester from the comfort of their room, spend the days preceding registration making the perfect schedule, and, in conjunction with RateMyProfessor, select the best instructor. But with over 43, 000 undergrads, you can't have your cake and eat it too.
Registration is designed so that students with a specific number of credits (usually in increments of 20 or so) are allowed to register on a specific day. Seniority gets privilege, of course, and there's no problem there. But when thousands of students overload the system, causing it to crash, I begin to question its usefulness . And by question, I mean curse. Loudly.
You might also like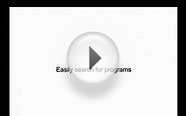 Introduction to the Enhanced Search Page for WebReg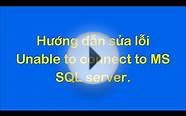 [SRX sro] Fix lỗi WEBREG Unable to connect to MS SQL ...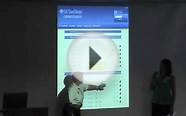 Transfer Info Session: WebReg Tutorial
BONAMART ® Women Men Web Belt Braided Canvas Fabric with Double Metal Square Buckle 28-37"


Apparel




1. Brand new & Good High Quality
2. Rugged wear, suit for sport and outdoor.
3. Slide Alloy Metal Double Buckle
4. Material: Canvas & PU Leather & Metal
5.Size: L*W:*3.8 Adjustable suit for 73-94cm (28-37 )
【SUPR-MINI KEYBOARD】 E-3lue ®Web TV Mini Wireless Bluetooth Keyboard Handheld withTouchpad for Android 4.0+Tablet,Windows 8,MAC,PS3,Google Android Remote Control (with 2 batteries)
Video Games (HausBell)
Innovative Unique Design: Newest 2015 Layout,guaranteeing the best handheld control with Built-in high sensitive smart Touchpad of 360-degree flip design.
Compatible with Android Ver.2.35/4.0/windows XP/Vista/7/8/MAC,PS3 with Built-in rechargeable lithium battery supports long time working and short time charge has...
Bridge to the communication of TV and PC can be easily controlled, fashionable and convenient for the users freely surfing the internet,watching videos or even replying...
.Combination of wireless keyboard and mouse.It successfully overcomes the shortcomings and deficiencies of computer devices at any moment.
It s the first remote control that can connet the computer to the television to experience the wireless at any corner.
Skque® USB2.0 Adjustable 12MP 4 LED Metal Webcam w/ Light Control for PC Laptop


Personal Computer (Skque)




Shows theHigh definition and true color images in network conference and video chat.
Attractive looking and easily portable

Martha Stewart Crafts Circle Edge Paper Punch, Floral Web


Art and Craft Supply (EKS)




Martha Stewart Crafts inspires crafters to discover the joy of creating beautiful pieces by hand
Punch circles with die-cut borders without having to trim the paper
Create 6-inch to 12-inch diameter circles with one tool
Use with the Martha Stewart Crafts Circle Edge Punch Starter Kit (sold separately)
Includes one punch cartridge

Webdultery ( Web dultery ) [ NON-USA FORMAT, PAL, Reg.0 Import - Australia ]


DVD




Webdultery ( Web dultery )
Webdultery
Web dultery