Inventor for students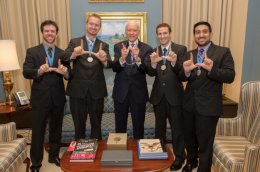 Adding another accomplishment to an already impressive year, University of Utah student startup Veritas Medical won second place among graduate students and $15, 000 in the Collegiate Inventors Competition in Washington, D.C.
Veritas Medical is a team of bioengineering and medical students who have developed a catheter — a tube inserted into patients to remove and deliver fluids — that emits light that kills bacteria before infections start. Their product, the LIGHT LINE Catheter™, uses high-intensity narrow spectrum light, which is known to kill bacteria without any harmful effects to human cells.
The students have been developing the device for three years. They have since won several state and international business plan competitions, filed a utility patent, and expect to start clinical trials next year.
"This has been an incredible year for us, " says Nate Rhodes, one of the students on the team who graduated with a master's degree in bioengineering this spring. "Our invention started with a goal to help primary-care providers reduce the risk of infection when using catheters. The LIGHT LINE Catheter has the potential to save thousands of lives every year."
The other University of Utah team members include: Mitch Barneck, a bioengineering graduate currently in medical school at Oregon Health and Science University; Martin de la Presa, a student doctor; and Ahrash Poursaid, who received a bachelor's degree in bioengineering this spring.
Veritas Medical has received substantial support and advising from the University of Utah's Department of Bioengineering, the Center for Medical Innovation and the Lassonde Entrepreneur Institute.
"The University of Utah's Bench to Bedside program was created to promote medical innovation and facilitate the translation and commercialization of these innovations so they can have real impact on the lives of our patients, " says John Langell, executive director of the Center for Medical Innovation and the team's advisor. "The outstanding accomplishments of the Veritas team demonstrate that these programs work. If our brilliant and driven students are given the right resources, they can truly change the world."
You might also like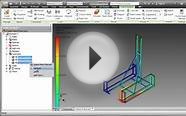 Autodesk Inventor Webinar for FIRST Robotics Teams ...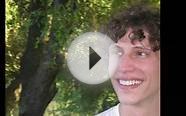 Stanford Students Design Recyclable Laptop with Autodesk ...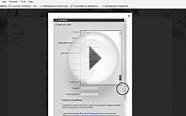 How to Download Autodesk Inventor for Students