Autodesk Maya Student Edition
As a teacher, one thing I can bear witness to is the seemingly haphazard organization of the key polygon mesh modeling tools in Maya – that is, until now. I was constantly sitting with students, pointing to the mesh tools available when the Main Menu Selector (on the upper right of the Maya interface) is set to "polygons", and telling them that such-and-such a tool must be in there somewhere on the somewhat unorganized Mesh or Edit Mesh dropdowns.
A significant improvement.
Now, though, there are three dropdowns, as follows:
Mesh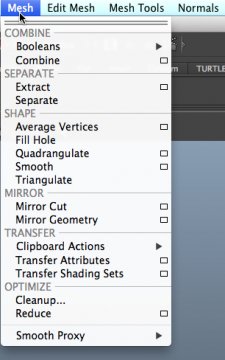 Edit Mesh
Mesh Tools
Organization and critical tools.
The various polygon tools are now organized in a far more understandable fashion.
Mesh.
In particular, the Mesh dropdown now has a handful of subcategories. They give the menu a very nice organization. The Combine and Separate categories contain critical tools that I always point students toward, for taking two or more objects and making one object out of them, or taking a combined object and separating it into two objects. There is also a category for mirroring tools.
Edit Mesh.
The Edit Mesh dropdown now very nicely organizes tools according to the granularity of geometry they act on, in particular, Vertex, Edge, and Face. Adding categories here is a great idea. This makes the searching of this menu easier and more logical. For some folks, finding tools like Extract located in multiple categories might seem redundant, but trust me, if you are trying to help students locate and use tools properly, this is very much an improvement.
You might also like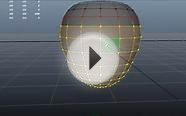 Autodesk Maya 2013 Tutorial - Model and Texture an Apple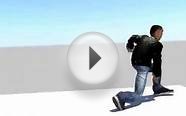 autodesk maya fight animation test 1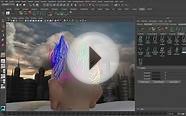 Xgen: Autodesk® Maya® 2014 Extension Release
AutoDesk Inventor 2011 Video Tutorial DVD


Software (Video-Tutorials.Net)




AutoDesk Inventor 2011 Video Tutorial DVD. 10:45 hours; 131 video lessons. English audio, part files.
Learn from the best! VTN is an Authorized AutoDesk Publisher, and presenter at the AutoDesk University.
Covers Inventor Fundamentals (Sketching, Part Design / Modeling, Assembly), Advanced Assembly, Inventor Studio
This DVD plays on a Windows computer. You can also download this course and stream it online (free access for 12 months to all updates via the online library).
Visit our website or YouTube channel videotutorials2 for many sample video tutorials and for complete table of contents.