UMUC's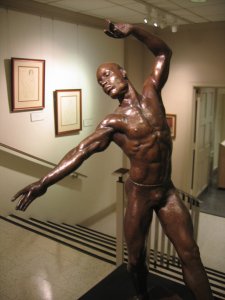 This is Le Danseur Noir, a bronze by James Earl Reid. I like its marriage of muscled strength with a lightness and elegance of pose. I think we'd all like to look like this guy.
It is included in the current show of the University of Maryland University College's Arts Program. I've been involved with UMUC's Arts Program for many years. They organized my current seven museum national traveling exhibition. UMUC has for many years had an active mission to collect, document, and exhibit art from the state of Maryland. As a Maryland artist, this tugs at my heart because nobody else in the region is doing this. And UMUC does it very well.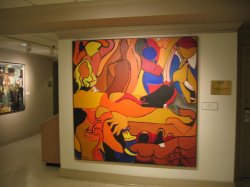 The current show is dedicated to one of the key forces that started UMUC's Maryland Artists Collection, Doris Patz. Speaking as a totally unbiased Maryland Artist (who has three pieces in the Collection), I think this an extremely worthy project. Consequently I've volunteered on the Arts Program's Art Advisory Committee as its longest serving member. Years ago Doris called me up and asked if I'd be willing to donate a painting to this Collection. I'd never heard of her so I told her no. A few years later she called again with the same request and I again declined. But her tenacity intrigued me.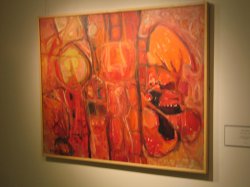 Gradually I learned these people were serious about building a collection and exhibiting the work with a high level of professionalism. My resistance started to crumble. I realized this was a train I wanted to catch.
UMUC has put this show together to honor the memory of someone instrumental in its Arts Program's creation. Doris passed away recently so its a fitting time for an exhibition to celebrate on of her great enthusiasms.. It's a group show with a lot of abstraction in it along with a few realist oriented works. One of the things I like about UMUC and this show is the chance it gives me to rub shoulders with artists whose outlook and enthusiasms are a little different than my own. Sometimes they can do some remarkable things.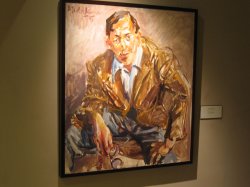 One of the most famous artists I've been able to get to know was Grace Hartigan, one of the key abstract expressionist painters and one of the first women to gain a serious following for her abstractions. She taught for many decades at Maryland Institute College of Art and only stopped teaching shortly before her recent death. Many of the graduate students who have helped me teach my classes at MICA were her students. Above is a major oil from 1969, Venus Observed. This is the kind of painting that's about bold and totally flattened out forms pushed right up against the surface of the painting. She's going for a big and loud first impression. To me it always looked like a very crowded party where the music was good and loud.
You might also like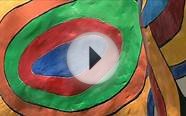 Stuart Collection at UCSD: Nikki de Saint Phalle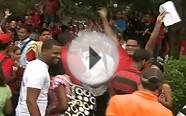 Estudiantes UCSD protestan por aumento injustificado de ...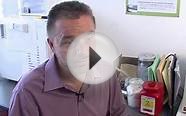 UCSD Reducing Risk for Sex Workers in Mexico
UC SAN DIEGO Diploma Frame with Artwork in Standard Mahogany Frame


Home (Old School Diploma Frame Co.)




OLD SCHOOL DIPLOMA FRAME CO. is the exclusive online dealer of top quality Diploma Artworks products
Lithographed artwork of a famous campus landmark drawn by a classically trained architect
A variety of frame styles and colors enhance the look of your framed diploma and match your decor
Two layers of matboard protect your diploma and artwork, create depth and display your school colors
Sized to fit current year diplomas - IF OTHER E-MAIL OLD SCHOOL DIPLOMA FRAME CO. W/ GRADUATION YEAR