NASA for Kids
Science Project: Contrail Watching for Kids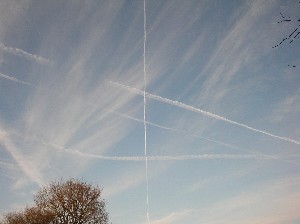 Image courtesy Forrest M. Mims III Web Id: P3 Purpose: Contrails are long clouds made by high-flying aircraft. Because kids are so good at watching clouds, they can be easily taught to identify contrails. Age Range: 6 – 10 Time Required: Young children can observe and report on contrails in only a few minutes a day. Background:
Because kids are natural sky watchers, they are curious about both clouds and contrails. It is likely that when contrails are present that young children will notice and pay more attention to them than adults. Here are some basic facts that will interest them:
1. Contrails are long clouds of ice crystals caused by the exhaust from the engines of high-flying aircraft.
2. Contrails can spread into cirrus clouds that reduce sunlight during the day and warm the Earth at night.
3. Contrails are formed when the temperature of the air is around -40 degrees Celsius (which equals -40 degrees Fahrenheit).
4. Contrails do not form when the air is too dry. The length of contrails provides a clue about how dry the sky is where the plane that caused the contrail is flying.
5. Clouds that shade the sun during the day can cause cool weather.
Significance:
Kids know that some clouds signal rain and other mean fair weather. They need to know that contrails are actually manmade clouds and that they can cause measurable changes in the temperature far below where they live and go to school.
Project Links: Real Time Data Source: MY NASA DATA Source: Project Ideas:
1. Contrail Identification. Young students should learn the differences between natural clouds and contrails. They should learn the three most basic kinds of contrails: (1) short and transient, (2) long and persistent or (3) spreading. They can find out more about contrail identification by visiting the S'COOL Cloud Chart: Contrails and GLOBE Contrail Resources.
2. Contrail Calendar. Young students can easily add contrail observations to a daily cloud calendar. They might even consider a separate Contrail Calendar. The calendar can be a pocket notebook or a calendar with plenty of white space for each day. If a notebook is used, the student should print the day, month and year at the top of each page. For more ideas, see Science Project 1: Clouds for Kids.
3. Contests. Kids love contests. You can motivate young students to observe contrails by organizing a contest for the highest number of contrails that are observed in a given week or month.
You might also like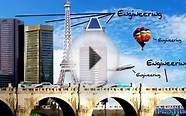 NASA Education for Kids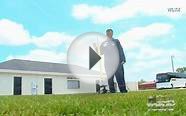 NASA camp makes science fun for kids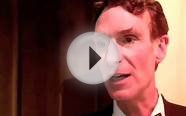 TIME For Kids at NASA Conference
Aeromax NASA Jr. Astronaut Suit White Toddler/Child Costume White


Apparel (Aeromax)




Ankle cuffs with adjustable Velcro Straps
Includes: Official NASA patches, including special commander patch
Includes: Official embroidered NASA cap
High Quality Construction
Recommended Age Range 2-3 Years
NASA Jr. Astronaut Suit Toddler/Child Costume Orange-XXL (12-14)


Apparel (Aeromax)




Ankle cuffs with adjustable Velcro Straps
Includes: Official NASA patches, including special commander patch
Includes: Official embroidered NASA cap
High Quality Construction
Recommended Age Range 10-12 Years

Aeromax Astronaut Boots, Size Medium


Apparel (Aeromax)




Official looking Space Boots
Official looking NASA logos and patches
Special zipper compartment
Intended to wear over shoes
Medium size fits up to 9 inch shoe