UCCS Office 365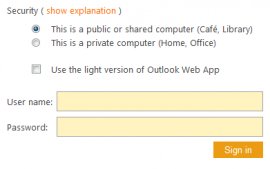 Please Note: The UCCS email system is the official method of communication to the students. Students are responsible for reading their email. Forwarding the email introduces an additional level of complexity and sometimes fails. It's recommended that you use Webmail to read the mail. If you choose to forward your email the UCCS IT Department will be unable to assist you with recovering any lost, undelivered or missing emails.
Step 1:
Navigate to the Student Email system by going to . Login with your UCCS Username and Password.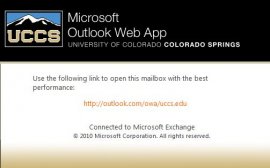 You will receive the below message, please click on the link to
If prompted please provide your UCCS Username and Password again: and click the OK Button
Step 2:
Once you have signed in and your mailbox has loaded click on Options torwards the top right corner of the screen.
Within the options Menu click on See All Options.
Step 3: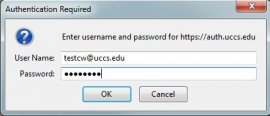 Insde the new window you will see a Shortcuts to other things you can do listed on the right side of the screen.
Click on the Forward your e-mail link the 5th option in the list.
Step 4:
At the bottom of the page you will now see a section titled Forwarding.
Under Forward my e-mail to: type the email address you want your UCCS email forwarded to.
It is recommended that you leave the Checkbox next Keep a copy of forwarded messages in Outlook Web App. If you choose to unfoward this the Help Desk will not be able to assist you with any lost or undelivered email.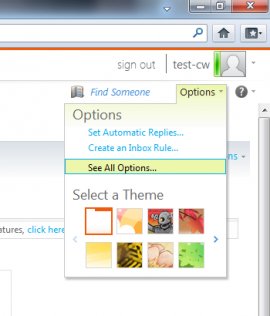 Step 5:
Once you have entered the email address click on the Start Forwarding button in the bottom right corner.
The screen will update and you should now see a Stop Forwarding option int he bottom right. Once you see this click the Savebutton and you have completed the process.
Note for Faculty and Staff Only:
Forwarding faculty/staff e-mail from University of Colorado Colorado Springs (UCCS) e-mail servers to another email provider is not recommended by the UCCS Information Technology (IT) department. When UCCS e-mail is forwarded, the e-mail is not stored on UCCS resources, and in the event of an outage the e-mail may not be recoverable. Additionally, University of Colorado Records Retention policy states that, faculty and staff must utilize university-owned e-mail accounts to conduct university-related business. This is in part because University of Colorado employees have legal obligations to maintain and/or produce electronic information in the event of litigation or open records request. UCCS does not have control over forwarded e-mail once it leaves UCCS servers. In addition, UCCS IT is not responsible for any email messages lost due to the misconfiguration of forwarded e-mail onto a third party provider.
You might also like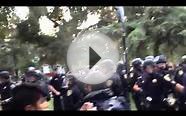 Re Police Pepper Spray Peaceful UC Davis Students thoughts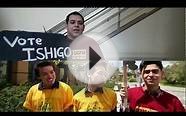 We are UC Students and We are Rooted In Unity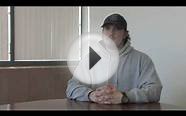 Student Ambassadors @ UC Irvine
Beware Business Security Papers (Fraud Protection)


Office Product (Boise)




Ideal for confidential business reports, employee/student records, gift certificates, and coupons.
For use in banks, insurance companies, universites, and retailers.
Acid-free for long shelf life
Anti-copy and Anti-scan protection papers
Makes conterfeit detection much easier