Sweatshop working conditions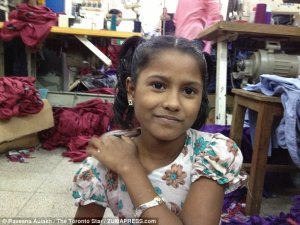 Investigation: Toronto Star reporter Raveena Aulakh worked undercover at a Dhaka garment factory
Most shocking of all was how a nine-year-old girl named Meem, forced into work to help raise money for her family, was put in charge of training Ms Aulakh.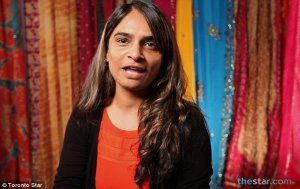 'The first time I saw Meem, which was also my first day at work at a sweatshop, she was having a good day despite the wretched heat. She sat cross-legged on the concrete floor, a tiny, frail figure among piles of collars, cuffs and other parts of unstitched shirts, ' Ms Aulakh wrote in the Toronto Star.
The reporter's investigation came in the wake of the Rana Plaza factory collapse in April, when more than 1, 100 workers died.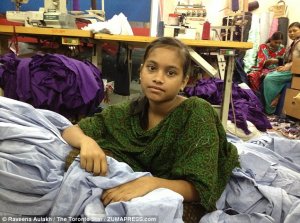 After what became known as the worst garment factory disaster in the world, there was intense scrutiny of working conditions and child labor.
But the larger factories also brought in improved security and screening programs, making it harder for undercover investigators to gain access.
Ms Aulakh was able to find work only after a Bangladeshi driver told a small factory owner, named Hamid, that she was related to his wife and had moved to the city for work.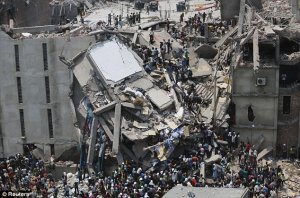 Child labor: Taaniya, 13, was one of the youngsters working 12-hour days at the factory
After being offered a trial, Ms Aulakh found herself arriving at the sweatshop on an oppressively hot day in August.
'The factory wasn't big: about two dozen sewing machines lined the walls of the windowless room, about half the size of a basketball court. Two cutting machines sat in a corner.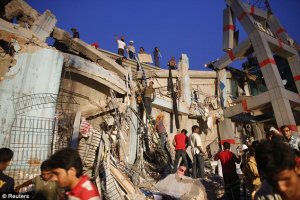 The sewing machines had little benches for the operators, and almost all had piles of colorful fabric by the side. Three ceiling fans, covered with layers of dirt, hummed quietly, ' she wrote.
A quick tour of the building revealed no fire extinguishers, only one exit - the front door - and little more than a hole in the ground, down a rat-infested hall, for the toilet.
Staff worked from 9am to 9pm with only a lunch break. The girls tasked with snipping off threads from the men's shirts being made, had to sit cross legged in the middle of the floor.
Ms Aulakh joined the girls on the floor and, under Meem's direction, was taught how to snip away loose threads without marking the clothes.
You might also like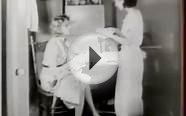 Sweatshops and Home Work in the Dress Industry 1938 The ...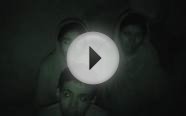 Fashion Living Conditions of Workers at GAP & Nygard ...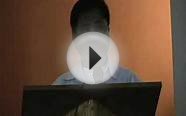 Former sweatshop worker from Saipan speaks about conditions