NASA website for students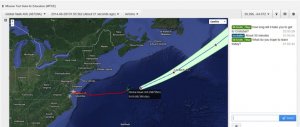 When you ask students about the work done by NASA, they will tell you about scientists exploring the moon, planets, stars, and galaxies, but often will never mention exploring planet Earth. The fact that NASA studies our home planet from space, from airplanes, and from the ground is often surprising to students. As an education specialist for the NASA Airborne Science Program, my job is to get this message out and to connect students directly to our airborne missions around the world.
NASA has a fleet of aircraft based across the United States used to study the Earth. These aircraft can be deployed all over the world (from the North Pole to the South Pole and everywhere in between). Our airborne missions study the ice at the north and south poles, hurricanes, volcanoes, oil spills, geologic faults, vegetation, air quality and much more. It is very likely that there is a NASA airborne mission that aligns with Earth science content you are currently teaching.
The NASA Airborne Science Program is committed to connecting to K-12 classrooms directly to our missions. One of the main ways that we do this is through the NASA Mission Tools Suite for Education (MTSE).
What is MTSE?
The NASA Airborne Science Program's Mission Tools Suite for Education (MTSE) is a website that allows K-12 classrooms from around the world to track the locations of NASA aircraft in real-time and participate in live text-chats with mission scientists, pilots, and others gathering scientific data while in the aircraft and on the ground. Students have the opportunity to connect with these mission personnel flying in very remote areas, such as Antarctica.
MTSE originated because of the NASA Hurricane and Severe Storm Sentinel project's desire to connect K-12 classrooms to its mission studying Atlantic hurricanes. Since then, it has been used to connect students and teachers to nine other NASA airborne missions flying all over the world (including NASA's Operation IceBridge, DISCOVER-AQ air quality mission, and the Airborne Tropical Tropopause Experiment (ATTREX). Over 7500 students in 351 classrooms in 73 different schools in 19 states, Guam and Chile have connected to NASA Airborne Science Program missions using MTSE.
Website features include:
• Live flight following: Students and teachers can track the position of NASA aircraft in real time
• Live camera feeds from the aircraft
• Real-time satellite data products (including current weather overlays, hurricane tracks, etc.)
• Environmental data from the aircraft (available on some aircraft - includes the ability to plot aircraft altitude, speed, temperature, wind speed, etc. in real time)
iPhone 6 Case Cubesot Nasa Students To Design Tiny Satellite For Future Launch beautiful design cover case.


Wireless (Yeclon)




For iPhone 6.
Precise cut and design make it easy to access to all ports.
It reduces scratches and smudges for your phone.
Slim lightweight and form fitted.
Attaches easily and securely to back of your iPhone.

Apollo 11 Lunar Landing Crew - NEW Famous Moon Nasa Poster


Office Product (PosterEnvy)




Apollo 11 Lunar Landing Crew - NEW Famous Moon Nasa Poster
12 x 18 Poster on High Quality heavy 80lb satin cover paper - durable and can stand up to all kinds of abuse and it won t pucker and wrinkle like others do.
This new poster is a PosterEnvy EXCLUSIVE! That means you won t find it anywhere else!
We ship orders out FAST (usually with 24 hours) in heavy duty cardboard tubes!
PosterEnvy has sold thousands of unique posters to thousands of happy customers around the world!