About Forever 21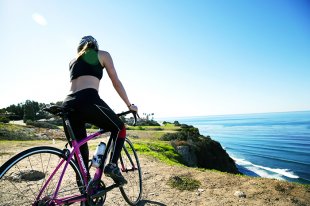 F21Active / GET ACTIVE: CYCLING WITH EMILY
Introducing the second of a series of seriously amazing ladies with active lifestyles…professional cyclist and spin instructor Emily Alvarez. Em runs the LA chapter of the female biker gang Pink Siren Sports and is all about bringing girl power to the sport of cycling.
This week, we took a hike up to the Palos Verdes cliffs, to soak in some killer views and chat fierce ladies and uphill battles with the total babe. Scroll down below to watch and read more!
How did you start cycling?
I started cycling in college. I worked for a sports marketing company in college and they put on a lot of athletic events in the area and I would often work the events. Many of them were triathlons. I got to talking to a lot of athletes, on and off the bike, which led to me buying my own bike and getting certified to teach spin classes. It's been downhill/uphill since then!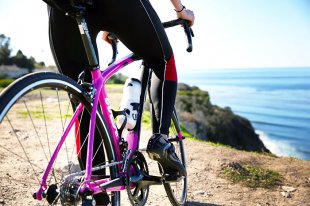 Tell us about Pink Siren Sports.
Pink Siren Sports is a fierce group of ladies whose goal is to create awareness within the sport of cycling and we really try to work together to build a strong bond between us. We use each other to train for specific events and help each other push ourselves to limits that we don't even think are often possible. We always have each others' backs.
What do you hope to achieve through cycling?
Well I recently moved from Florida and started this new LA chapter of Pink Siren Sports. I really just wanna build a community of cycling enthusiasts and let women know this is not an intimidating sport and there's support out there to help.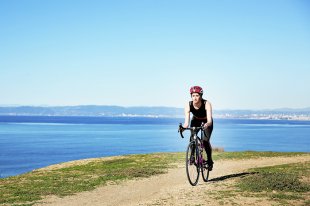 What excites you most about cycling?
Reaching personal records and accomplishing something that I never thought I could accomplish! Little milestones are what get me excited.
What are your favorite places to ride?
LA is a total playground. You can ride a few miles in any direction and you have a completely different environment. I love riding Palos Verdes, because you have the beach and the hills…
Why do you love the active lifestyle?
Health is very important to me. Also, I feel like I'm more focused and more productive on days that I get up and go do something in the morning.
What keeps you on the bike when the road gets rough? What keeps you going?
It gets hard. And it can get very tiring at times. But I remind myself why I do it. I incorporate working out into my daily routine as if it were my job, as if it were a very important appointment that I can't be late to. I have this ride scheduled, I need to go. Everything else becomes second. It's "me time". Sometimes meeting up with other cyclists, helping train, or just having to be reliable, helps hold you accountable for your workout.
You might also like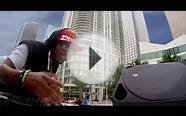 Yani Simone - Forever 21 (2013)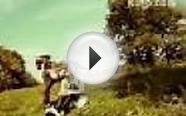 曾轶可《Forever 21》MV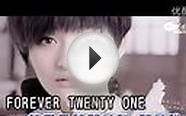 Forever 21
Forever Link SLIP CASUAL PLATFORM SNEAKERS 7 grey


Shoes




Faux Leather
Imported
All man made material
True to Size

Forever Yung Surgical Steel Earring Earwires Hypoallergenic Gold Plated Fishhook with 10x3.5mm Ball and Coil with Open Loop, 21 Gauge.(About 100 Pairs)


Art and Craft Supply (Forever Yung)




Fashion,exquisite item
Color:show as pictures
Great for DIY jewelry projects
Quantity:About 100pairs
Please click on our storefront or search Forever Yung for more choice